We are less than an hour removed from the conclusion of the top seeded Denver Broncos losing a home playoff game to the four seeded Baltimore Ravens.

As evidenced from my
blog
earlier this week, I was seriously torn as to what I truly wanted.

Does my lifelong allegiance to the Broncos overrule my 20 year fandom of Ray Lewis?

How does my 15 year disliking of Peyton Manning factor in?

Can I seriously cheer for a guy I can't stand to end the career of a man I respect completely?
As the week progressed, I continually felt the orange and blue coursing through my veins.

I am a Denver Broncos fan.

Period.

That will overrule any other allegiances.

While I hated to see Ray Lewis go and end his career in Denver, it had to happen that way…or did it? I sat enthusiastically and watched Trindon Holliday become a star in Denver.

Notching a punt return and
kick
return for touchdowns, he quickly became the missing piece for a team that has lacked a great return man for many years.
Despite his brilliance, there were two glaring issues in Denver:
- Peyton Manning did not look good.

He threw an early interception, that likely shouldn't have counted but if there's no flag, there is no foul.

He also fumbled away a ball in a crucial moment.

The Ravens scored 14 points off of these two turnovers.

Add in the brutally bad throw in the second overtime that Baltimore intercepted and set up for the game winning field goal, and you've got a total dud of a game.
- Champ Bailey played his worst half as a Bronco at the worst possible time.

I am a huge Champ Bailey fan and will argue tooth and nail about him being the top corner in the league.

Today was a different story.

He was burned during the first half for two deep touchdowns to Torrey Smith.

He was flagged for a questionable pass interference call late in the 4th quarter that kept the momentum moving for the Ravens. I must say, to his credit, Bailey did shut down Smith in the second half by only allowing one catch for seven yards. He made the proper adjustments and stepped up when plays counted the most.
If you would have told me that the two, first ballot Hall of Famers on the Denver Broncos would be the main culprit for a Broncos loss, I would have laughed at you.

That would have been like telling me I would be starting at running back for them.

It just wasn't going to happen.

Unfortunately it did.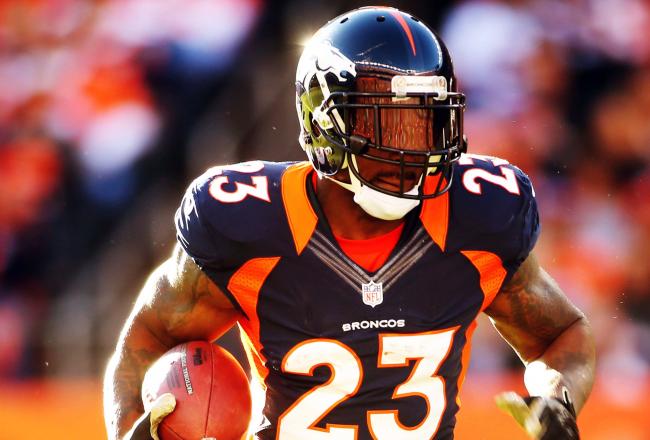 The offense looked out of sorts most of the day, with spots of the great play we grew accustomed to throughout the regular season.

The absence of Willis McGahee was felt extremely hard in this one.

Whether it was his tough running or phenomenal pass protection, he is the real key to making this offense go.

Knowshon Moreno and Ronnie Hillman filled in admirably, but the real threat of a power running game was not there, and it showed.
The defense, while good at times in this game, managed to make Joe Flacco look like Joe Montana.

It's simply unfathomable to allow him to walk into Mile High stadium and throw for 331 yards.

The largest mental gaffe occurred with thirty-one seconds to go, as Flacco found a wide open Jacoby Jones for a seventy yard, game tying
touchdown
.

This play was the moment I knew we would lose this game.

Sometimes things happen where you just know, this isn't your night.
In the offseason, everyone kept asking if the regular Peyton Manning would be returning to the field.

The unfortunate thing is that he did.

He was great in the regular season, and a disappointment in the playoffs.

We can spin the narrative however we want, but the evidence is there.

He didn't make the plays when they needed to be made.

Like they always say, quarterbacks get too much of the credit and also too much of the blame.

When you commit three turnovers that result in seventeen points in a home playoff game, that blame is warranted.
So where do I go from here?

I'll take a few days to let this sink in and realize the window for Denver to win is very brief.

Manning at quarterback will continue to bother me and then worry me once the playoffs arrive.

However, my other dream still lives.

Ray Lewis will return to the AFC Championship game, in hopes of moving towards that final goal of a Super Bowl.

I don't know how much emotion I have left, but if Baltimore can keep this up, I'll keep rolling on this "last ride" with Ray Lewis.