Frustrated.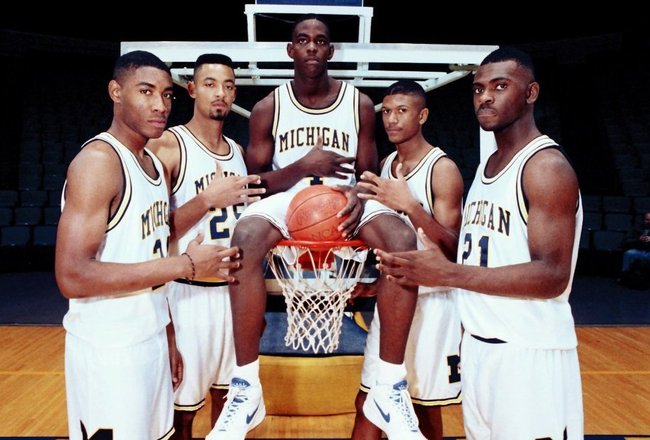 The Fab Five
I am finding the words above to be more defining of my sports experience than ever before.

Whatever happed to the joy, excitement…the fun?

I don't remember the last time I had zero interest in the NFL Draft.

Yet, I was there last week not paying attention to or watching the first round of the draft.

The only thing I cared about during March Madness was the potential reunion of players from the Fab Five, a team that hasn't shared a court together since 1993.

I live for the NBA, and I can't bear to watch my beloved Nuggets as their playoff exit is imminent.

It isn't sour grapes about the loss.

It's the fact that I am dreading what follows…but I'm getting ahead of myself.
Kenneth Faried with Athlete Ally
I'll be the first to admit that my frustrations in sports can be really quite odd.

I get frustrated when my team doesn't play well, which is obvious as that is normal for every fan.

I've found myself more frustrated by the media and social networks coverage of sports.

We know too much in this 24/7 news cycle, but at the same time not enough.

I know what Kobe Bryant is tweeting about because it is scrolled all over ABC and ESPN.

At the same time, I have to dig to find out that Kenneth Faried is involved with the Special Olympics and
Athlete Ally
.

I fully understand that Bryant is a superstar, but why is there coverage on what movies he is
watching
while injured over another player working hard in his community?

In this day and age, the "larger market" argument is worthless.

Thanks to mobile devices and the online community, coverage is everywhere for everyone.

It's simply what is being chosen to cover that frustrates me.

The Lakers were a mediocre team all year, as were the Houston Rockets, yet we were forced to hear about the Lakers every day.

I just don't get it.
I'm angered by knowing the Denver Nuggets season is about to conclude unceremoniously.

It's not that they will lose and not advance in the playoffs that angers me.

In truth, I could not be more proud of this team.

They are filled with good players that work hard and are easy to cheer for.

Just because the media doesn't call them superstars, it doesn't mean they aren't.

Ty Lawson is a beast.

Kenneth Faried is fantastic.

Danilo Gallinari, prior to his injury, was becoming a go-to player in the fourth quarter.

I'm angered knowing that the "talking heads" in the sports media will continue their collective assault on what the Nuggets stand for; TEAM basketball.
Names on paper doesn't win games
I am so sick of hearing the nonsense that you can't win without a superstar on the team.

The Nuggets won 57 games in the regular season and were the 4

th

best team in the league!

I understand it is the regular season and it didn't translate to the playoffs.

They ran into a team in Golden State that matches up well.

That's just basketball.

Don't tell me, though, that a team can't be good without a star because that is ridiculous.

Stars don't equal wins.

Teams equal wins.

The Miami Heat, while star studded, are the best TEAM in the league.

The Lakers, while star studded, were more of a punch line this season.

Dirk Nowitzki didn't reach the playoffs.

Kevin Love gets star treatment, yet he's never seen the playoffs.

"Superstars" mean nothing in a team game, unless they are transcendent talent.

Let's be honest, we're only talking a few guys here.

The "must have" a superstar mentality will continue to be beaten by the media and the Nuggets will continue to be disrespected.

Can we all just admit, though, that guys like that are legitimately few and far between?
Additionally, I am tired of hearing about "small market" teams.

Seriously, it doesn't make sense to me.

Is Green Bay a big market?

Absolutely not, but the NFL does a great job of marketing it.

Heck, Denver is a great market for the NFL.

Why can't it be for the NBA?

I hate to answer a rhetorical question, but the reason that it isn't for the NBA is because they don't want it to be.

The Nuggets had "superstar" Carmelo Anthony for seven seasons, yet didn't get near the publicity he has since being traded to New York.

That's the NBA's fault.

In the technology age we're in, market size is irrelevant.
I discussed my conflictions
previously
, but it is a much deeper issue than just that one moment.

I've never been a fan of Peyton Manning.

I never will be.

I give the guy all the respect in the world, as he is an all-time great talent, but I just have a hard time cheering for him.

We all know someone who is a little too passionate (apparently I am the pot calling the kettle black here) about a team or player.

Sometimes that can cause those around them to cheer against them.

That's what Peyton Manning started out as with me.

The 1997 Heisman Finalists
During Manning's senior season at Tennessee, he was the clear favorite to win the Heisman trophy.

However, Michigan star Charles Woodson stormed the regular season and led the Wolverines to a National Championship.

Woodson won the Heisman, which I agreed with.

Unfortunately my older brother strongly disagreed and was a tremendous supporter of Manning.

He was such a fan that the day after Manning lost to Woodson, he walked around our college campus with a black arm band out of respect for Manning's lost Heisman.

This moment was the seed that grew into my distaste for Peyton Manning.
The underappreciated Jake Plummer
As his career progressed, Manning routinely embarrassed my beloved Denver Broncos and my distaste grew.

I would nitpick anything and everything Manning did; whether it was him throwing his
teammates
under the bus or any other little thing I found, I really could not like the guy.

Without question, the moment Manning signed with the Broncos, I was crushed.

While a great player was joining the team, it was someone I have cheered against for 15 years.

I'm not wired to just change because you put on a different jersey.
I'll admit to buying in wholeheartedly to
Tebowmania
.

I was excited to see where it would go and how an offseason training with John Elway would help Tebow develop.

When the rug got pulled out for Manning, I really didn't know how to react.

I had gone through something similar when Jake Plummer (personal favorite) was benched in favor of Jay Cutler despite a 7-4 record, but this had a different layer.

Tebow was replaced by a player I refused to cheer for.

Yet here Manning is; dressed in the orange and blue I love so much.
How do you cheer for your team when the face of them is one you want to boo?
Everything above has led me to this.

I still get excited for events, such as Jon Jones' fight this past weekend or the NBA playoffs, but the fun isn't there.

The events I always got excited for have seemingly lost their luster because shows like ESPN's First Take have to take all joy out of them.

The constant dissection and ridiculous hyperbole of these shows take what's best about sports out of the games.

We take them seriously because we're fanatical, but at some point the media needs to dial it down a notch.

I just sit here in a place that I'm shocked at.

I never thought I would put a game on and simply not care.

I love watching Champ Bailey play, but his face and name aren't on the marquee.

He's not the face of the franchise I've always loved.

Instead, it's a guy I can't cheer for.

Manning's presence in a Broncos jersey takes my joy away and makes me simply not care.

The media's constant star-obsessed coverage of the NBA makes me not care as much.

There are no words that can accurately express this feeling.

I just know that it isn't as fun as it used to be.

The downfall of sports journalism...
Maybe I am crazy.

Maybe I am too passionate.

Maybe I just care too much.

I just want to enjoy the games, the fights and not have such a visceral reaction to it all.

I just want to have the relaxation and "escape" sports can provide.

I wish I could figure this internal struggle out.

I wish that sports weren't such a lightning rod within me and were just, you know, fun.

Alas, I will continue to tune in and hope the new feeling of apathy starts to dissipate.